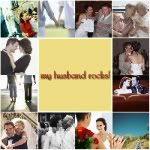 So this week I am supposed to tell you, that moment or circumstance when I knew Nathan was going to be my husband!
I would have to say there are two things that got me to that place,
#1. He had told me loved me, he wanted to court me, he knew I wasn't at that place yet, but he would wait for me. [that wasn't even the good part] I remember he looked me in the eyes in the parking lot out front of my dorm, and said, I want to help guard your heart, Sarah. I seriously want to just cry thinking of that moment, never had I known someone so concerned for someone else. Usually in relationships, you put all you have out there, hoping not to get hurt, and his concern was for ME! That is an awesome man of God right there.
#2. We were in the common area of the men's dorm building [GLT] and there were a bunch of us all chatting up a storm, someone said something that made me BUST out in laughter. For those who have not met me, know this, I have a LOUD laugh! It leaves quite the impression on people, or so I've been told by others through the years. Well, I had become a little self conscious in the few years before this incident, and so immediately clapped my hand over my mouth, almost in horror as I looked over at Nathan to wait for his reaction. He got a HUGE smile on his face, and told everyone in the room "that's my girl"...that's how I knew he loved me for me. =]
My husband rocks, because he has been putting forth an effort this whole week, to paying attention to what I'm saying. Really listening to me, and putting me before all the "stuff" that swamps his brain in the evening that sometimes robs me of him. He is doing great, he made me a little puzzle out of index cards that had a nice little love note on it...he left a note in my lunch today...that just said I love you, and he spent time with me, with no agenda no pressing conversation that needed to be had, no talk of money, just loving being around me, and it fulfilled a need that I have...and I'm just thankful that he realized it. He truly is an amazing man, I can't say that enough.